Choose to Reuse! Save your Pennies & the Planet
Surfrider Foundation Oahu's volunteer-led Ocean Friendly Restaurants program is launching an outreach campaign to educate about the safety of reusables and help restaurants reduce their plastic footprint by choosing reusable materials as a best option in terms of hygiene, economics and sustainability.
This effort shows restaurants five easy steps to reduce unnecessary waste, save money and get ready for Honolulu's Disposable Foodware Ordinance 19-30 (previously called Bill 40).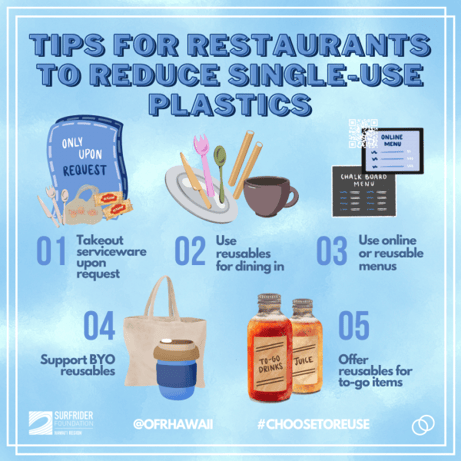 1. Offer Takeout Service-Ware Upon Request Only
Giving out utensils, straws, condiments, napkins, and bags only when a customer really needs it will help restaurants reduce resources, storage space and money. In fact, Clean Water Action calculated business costs for each takeout and delivery order to range between $0.25 and $0.85 of single-use food service, money that can easily be saved considering that 98% of takeout and delivery is consumed at home or at work where these items are already available. It is estimated that 40 billion plastic utensils are being wasted per year in the U.S. alone, so restaurants are not only saving money, they are also helping to reduce unnecessary waste.
Starting 1/1/2021, all restaurants on Oʻahu will be required by law to provide disposable utensils, straws, and other service-ware by request only. Here are some tips for restaurants to get ready for the new ordinance and also start saving money by offering utensils, straws, condiments, bags, and napkins upon request only:
Put up an "only upon request" sign in your restaurant for takeout orders. Email ofr@oahu.surfrider.org to get yours today!
Offer service-ware upon request for online orders

Create 'menu' items for service-ware at $0 so customers must opt in to receive these items (see how Tane Vegan Izakaya did this on their online menu)
or add a note on your website that service-ware must be requested in order to get them (just like Fete Hawaii is doing)
choose a digital ordering platform that offers utensils and other service-ware upon request only (like Uber Eats has customers opt-in for utensils at checkout)

Consider implementing a small to-go fee for service-ware or condiments to save on costs make sure customers really need them. (for example Kona Brewing Co. is charging 50 cents for extra condiments)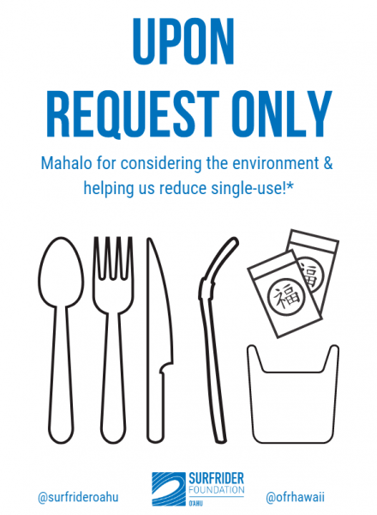 2. Reusable Tableware for Dining In
Reusable materials are the best option in terms of hygiene, economics and sustainability, and provide a more high-end experience for your guests. Reusable tableware for dining-in includes plates, bowls, cutlery, condiments, glasses, cups, and straws. Reusables are safe (see below), save storage space, resources, and money.
"Everything for onsite dining in our shop is reusable," says Natsuko Takeda, owner of Coffee Shop 831 in Waikiki. "By reducing the amount of disposables we are saving a lot of money which allows me to increase my staff's salary.
Good news: Restaurants switching from throw-away to reusables actually SAVE MONEY. According to a number of case studies by Clean Water Action's ReThink Disposable, every single one of their 300+ participating restaurants saved money when making the switch. Not one restaurant lost money, even when they had to install a dishwasher, and purchasing real, reusable dishes.
The Conservatory for Coffee, Tea, & Cocoa saving $6,898.82 annually.
Another example is the University of San Francisco's Market Cafe, which saved $150,000 per year in disposable foodware costs by eliminating more than two million foodware items with no additional labor cost. Not only did they save money, over 2.6 million disposable items were eliminated and 10.24 metric tons of greenhouse gas emissions reduced (MTCO2) annually.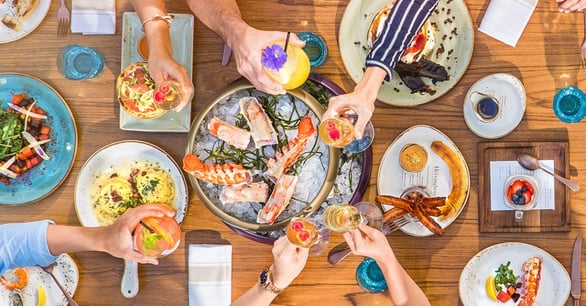 3. Use Online Or Reusable Menus
Many regulations advise caution around shared menus, but there are cheaper and more sustainable solutions than disposable menus. Choose contactless or digital menus and save on paper, printing costs and reduce waste. Here are some examples that local restaurants are already doing:
Use a digital remote ordering platform (for example Encore Saloon is using Toast for contactless ordering and payment, and customers can order via their website or through the Toast app.)
Provide QR codes for online menu on tables that customers can scan with their phone
Place menus under glass on tables or in clear stand displays
Provide your menu or daily specials on a chalkboard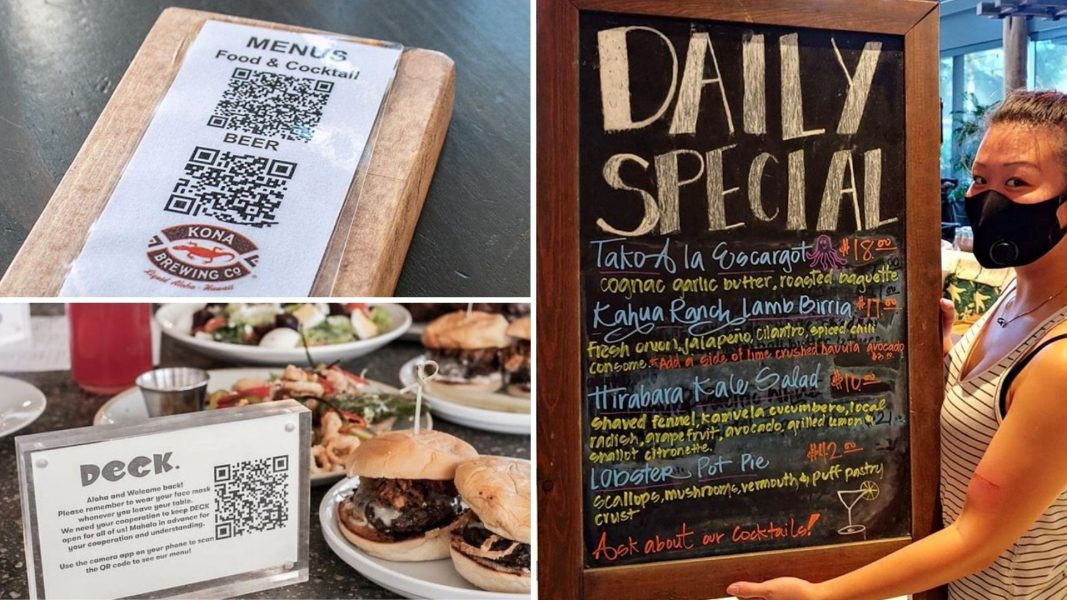 4. Encourage Customers to Bring Their Own Reusables
Encourage customers to bring their own reusable coffee cups or growlers for contactless refills, bags for takeout orders, reusable straws, or utensils, and save on giving out disposables.
If you opt to refill customers' coffee cups or growlers be sure to follow your local Department of Health Guidelines. One way to safely refill cups and maintain compliance with the DOH is to use the #contactlesscoffee method for safe refills.
Allow customers to bring and pack their own bag for takeout orders - save on disposable bags!
Offer incentives for BYO Reusables and be sure to advertise them on social media, your website and your restaurant. Incentives could include

a discount on the food or beverage item
a loyalty program (e.g. fifth refill is free, or a bottomless coffee program like Knots Coffee Roasters offers)
charge a fee for non-reusable cups or containers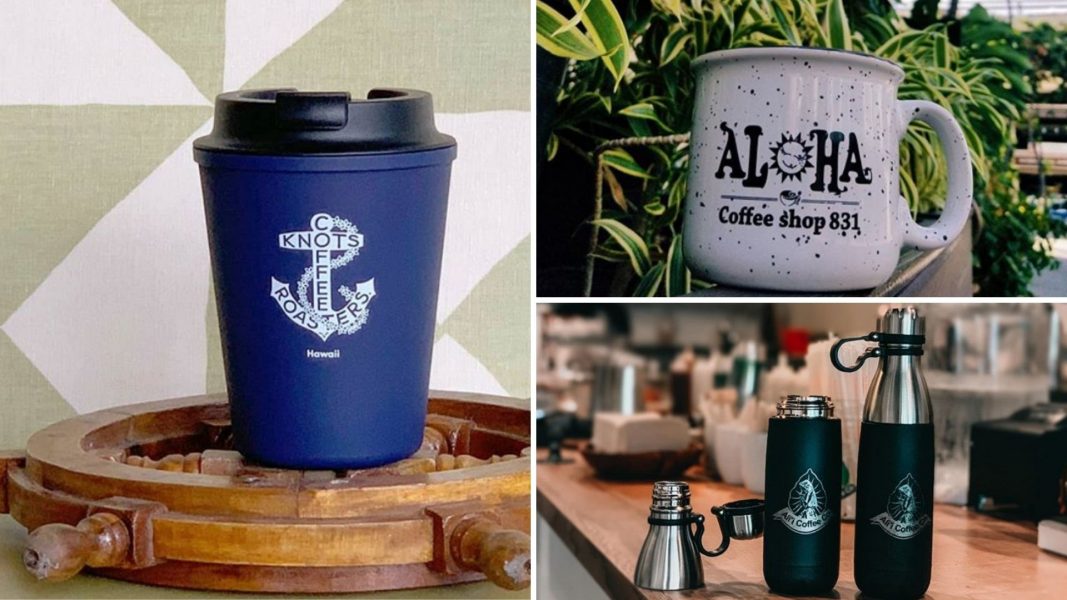 5. Offer Your Own Reusables For To-Go Orders
Life has us often on the go, but that doesn't mean we always have to choose disposable packaging. If you offer food or drinks to-go, consider using reusable containers instead of disposable plastics to save on resources and money. You can either sell reusable or create a deposit system for customers to return containers.
Offer your own branded merchandise (utensil sets, tote bags, coffee cups, growlers, straws, takeout containers) for customers to buy

create extra revenue and marketing opportunities
combine incentives with the purchase of your merchandise to grow your loyal customer base

Ask for a small deposit or provide a discount on the next purchase so customers are more likely to return containers.

Ask customers to return their bottles or jars clean
sanitize the returned containers at the restaurant before refilling them again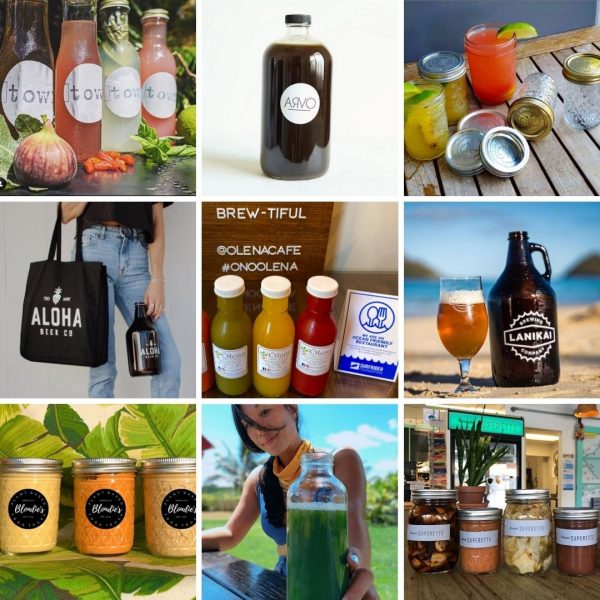 Several local restaurants have been providing reusables to-go throughout Covid, and these Ocean Friendly Restaurants are just a few examples:
Are Reusables Safe?
Yes! A statement signed by over 125 virologists, epidemiologists, and health experts from 18 different countries endorses that reusables are safe. Upstream Solutions has published a fact sheet about the safety of reusables vs disposables. The bottom line: the odds of getting the virus from surfaces are extremely low, and based on how long the virus lasts on surfaces and typical consumer and worker behavior, disposable products are not safer than reusable ones.
Additionally, The Oceanic Standard has published a COVID-19 Reopening Guidelines: Restaurant + Hotel Foodservice. This guide provides recommendations and resources for staff and customer safety to reduce the spread of COVID-19.
And, if you're searching for more sustainable (i.e. plastic-free) options for your take-out and delivery orders, The Oceanic Standard has you covered there, too! Check out their Plastic-Free Hospitality Edition which also includes discount codes for the products!
How To Participate
If your restaurant wants to participate in the "Choose To Reuse" movement and receive that extra social media love throughout our network, then send an email to ofr@oahu.surfrider.org to get your digital "Upon-Request Sign" and let us know which of the above ways to reduce single-use waste you are already doing or where you are struggling!
Don't worry if you are just about to start to improve your practices, nobody can do it all at once! Start by putting up the "Upon Request" sign and watch your savings grow!
And if your restaurant is already using reusables, let us know how! We would love to share this with our network to inspire others! Follow @ofrhawaii on social media or tag us so we can share your best practices!
We are here to help, at least as much as our volunteer power can handle!
Protecting what we love, your Surfrider Foundation O'ahu Chapter