Hawaii is one of the most progressive states when it comes to environmental legislation. These are some of the plastic policy victories Hawaii has achieved in recent years.
---
1) Hawaiʻi becomes the first state to ban plastic bags (2015)
CAMPAIGN INFORMATION: With the passing of the ban on plastic bags in the last county of Hawaiʻi in 2015, Honolulu has completed the first ever statewide cooperation to phase out the use of single use plastic bags in the US. Soon after this the state of California joined in 2016 and New York in 2019. Hawaiʻi, a place where people hold great pride for its land and sea, has gotten the ball rolling in this movement of environmental care and protection. We hope that in the future more and more states will join together to fight against the persistent pollution that plastics cause. See information on Honolulu's ban, Maui County's, the ordinance in Kauai, and the ban on Hawaiʻi Island
EFFECTIVE DATE : July 1st, 2015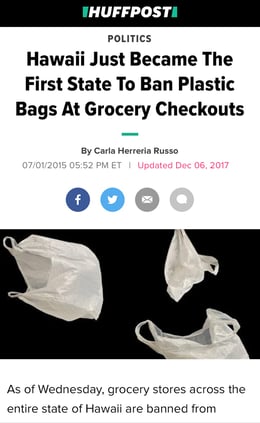 ---
2) Hawaiʻi becomes the first state to ban smoking at public beaches, parks, and bus stops (2014)
CAMPAIGN INFORMATION: Hawaiʻi has also become the first state to ban smoking at state parks and beaches, and bus stops in 2015. Smoking is also banned on all city beaches in Oʻahu, Maui, and Hawaiʻi Island. This is important because cigarette butts are one of the top most littered and cleaned item from beach and community cleanups. Cigarette butts are made out of plastic and are full of chemicals and toxins that pollute our environment.
Additionally, our public spaces should be free of the toxic side effects of secondhand smoke. The use of tobacco as well as vaping products is a public health issue that we face in the youth of Hawaiʻi. Smoking has a long list of negative health outcomes and Hawaiʻi is proudly moving towards becoming a healthier community statewide. For more information, check out the state website regarding this law!
EFFECTIVE DATE: Honolulu, January 1, 2014; Hawaiʻi Island: 2008; Maui County: April 22, 2014; State parks and beaches: 2016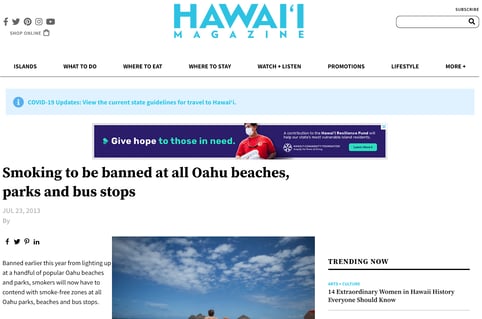 ---
3) Maui and Hawaiʻi Counties ban foam (2018 & 2019)
CAMPAIGN INFORMATION: Maui County in 2018 and Hawaiʻi County following in 2019 has banned the sale and use of polystyrene foam (a.k.a. styrofoam) food service containers. Polystyrene foam in the ocean breaks down into smaller parts that eventually becomes ingested by marine life as well as wildlife. This ban not only protects against the harm of natural life but also requires businesses to switch to manufacturing environmentally safe food service products.
In addition to this, the breakdown of polystyrene produces greenhouse gasses that cause climate change. The state of Maine has been the first in the US to ban polystyrene food containers completely. Hooray to protecting our ocean and environment! For more information on this ban, check out foam free Maui and the county of Hawaiʻi website!
EFFECTIVE DATE: December 31, 2018 (Maui); July 1, 2019 (Hawaʻi)
---
4) Oʻahu passes comprehensive single-use plastics ban (2019)
CAMPAIGN INFORMATION: Single-use plastics are known to be the most harmful to the environment, which comes from their extremely long breakdown time that can take centuries while billions of tons are being utilized daily. Honolulu County has passed a comprehensive single-use plastics ban, Bill 40, in December of 2019.
This bill requires a phase out of petroleum based plastic take-out materials and also requires utensils and straws are provided upon request only. It expands the plastic bag ban to include non-grocery businesses. This is one of the most comprehensive single-use plastics bans in the Nation.
EFFECTIVE DATE: January 1, 2021 (pushed back to April 1st, 2021 due to COVID-19 hardship). Second and last phase goes into effect January 1, 2022.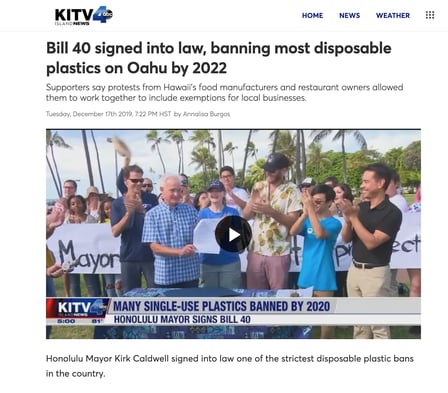 ---
5) Maui County passes comprehensive single use plastic ban (2020)
CAMPAIGN INFORMATION: In April of 2020, Maui County passed its own comprehensive SUP ban, Bill 52. Counties in Hawaiʻi, New York, and California have passed comprehensive bans that include SUPs. The next step in the process to alleviate the strain on our environment from throwaway plastics and materials is to achieve Extended Producer Responsibility (EPR), which means holding companies accountable for the production of plastics. To see more about how Maui county is doing with this bill check out their website!
EFFECTIVE DATE: January 1, 2022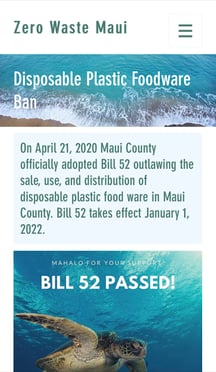 ---
6) Kauaʻi county bans foam, giving us a statewide foam ban (2020)
CAMPAIGN INFORMATION: Lastly, in September 2020 Kauai County joins the other Counties in Hawaii in banning polystyrene foam food containers, which marks the milestone of an effective statewide ban in Hawaii. This ban on foam take-out containers may usher in an important shift to paper, compostable, and reusable foodservice ware. To see Kauaʻi county and their rules, browse their website.
EFFECTIVE DATE: January 1, 2022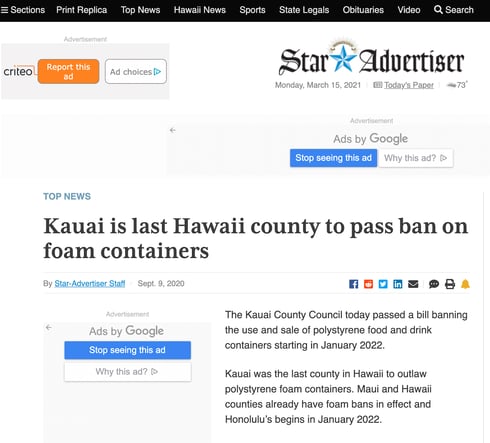 Due to the rising awareness of the public about the negative impacts of single-use plastic, Hawaii has been incredible successful in passing these various laws to mitigate these impacts. This grassroots movement to create positive change for our environment is the result of over a decade of dedicated effort by activists, experts, and organizations offering education, hosting beach cleanups, and conducting legislative advocacy.
Surfrider Foundation is just one of many organizations to advocate for and catalyze these changes. These victories are also made possible by some incredible youth activists, who organized and testified to support these bills, in addition to dozens of businesses showcasing that sustainable practices can align with a thriving business. We must also thank government officials and decisionmakers who help to champion various bills and vote in favor of them.
Follow our work here or at @surfrideroahu on IG for more updates on our work.