VICTORY:
On February 1, 2021, Koolina finally restored 100% of public parking and beach access after many months of back and forth with the community and local government.
CAMPAIGN INFORMATION:
In 2020, as the COVID-19 pandemic impacted our island and world, Koʻolina Resorts made the decision to block off all of their parking spots for the public. With the lack of alternative parking options, this essentially blocked beach access to local residents, with people only being able to enjoy the beach if dropped off and picked up.
Over time, Koʻolina re-opened some of their parking but continued to block much of it off. With pressure from the community and a coalition of advocates and organizations, Koʻolina continued to use COVID as an excuse to block off a portion of their parking spots, citing public health. However, only the parking for locals and the public were partially blocked off, with private parking spots being fully open. This inconsistency revealed that their reason for the action was unjustified.
We continued to press that all City parks and beaches had full beach access and full parking accessible, and the Koʻolina should follow the same guidelines as City beaches.
In August 2020, the Department of Parks and Recreation (DPR) sent a warning letter to Koʻolina (below).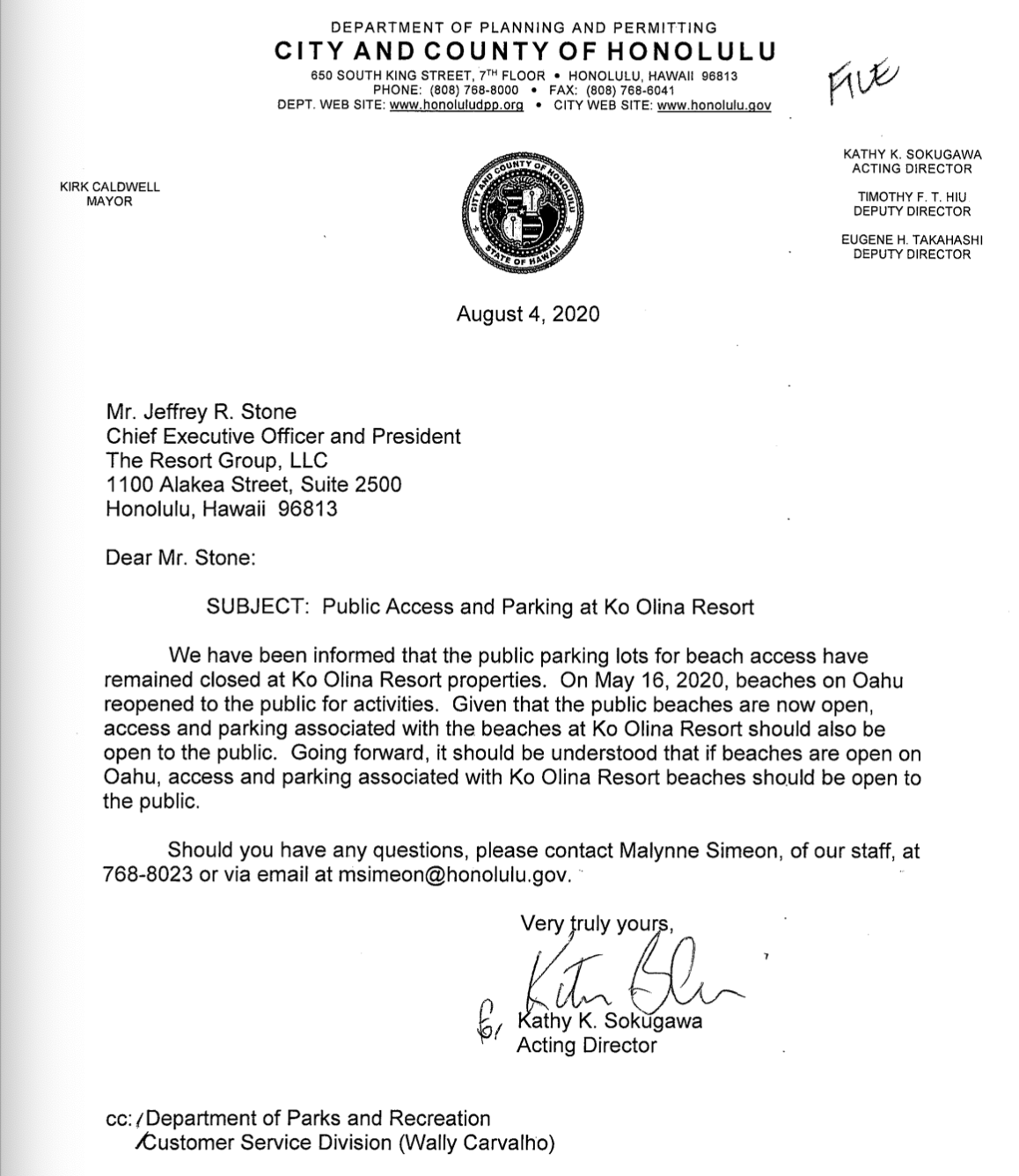 In October 2020, given the continuance of the practice, DPR send a Notice of Violation to Koʻolina (shown below).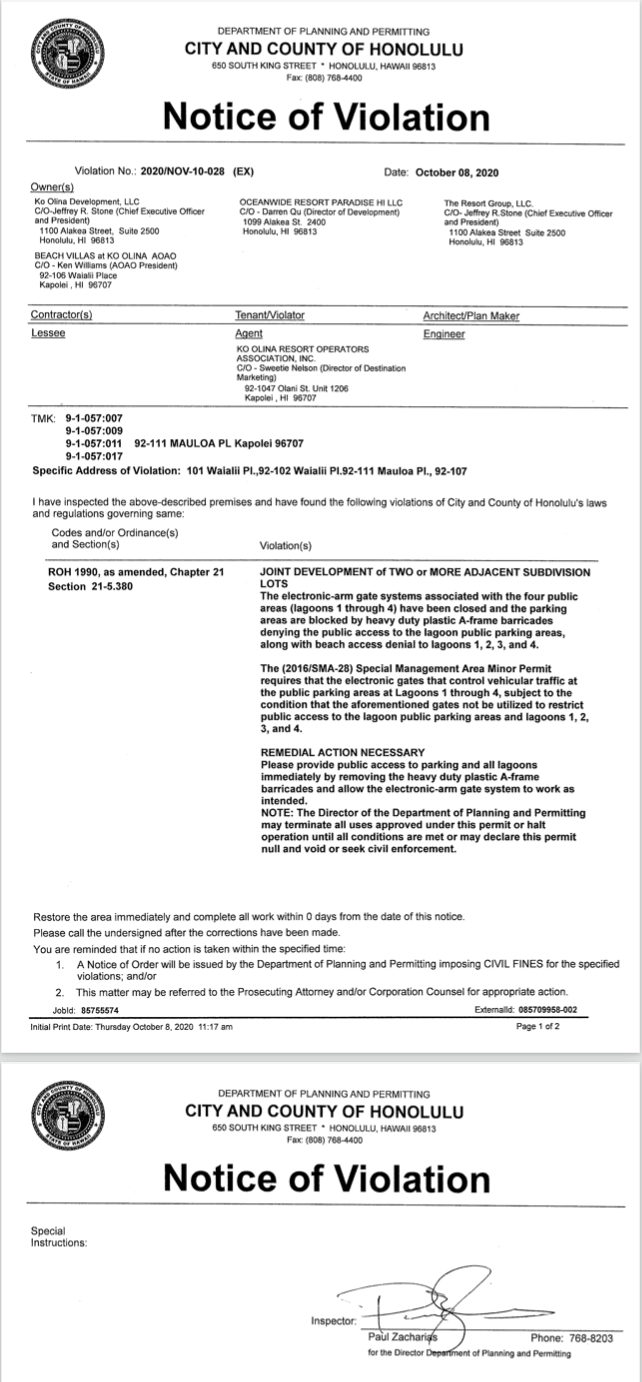 On October 15, Former Mayor Kirk Caldwell & the Ko Olina Community Association appeared to enter a special agreement that allowed Koʻolina to continue restricting public beach parking, with only 50% of spots opened for two out of four of their lagoons.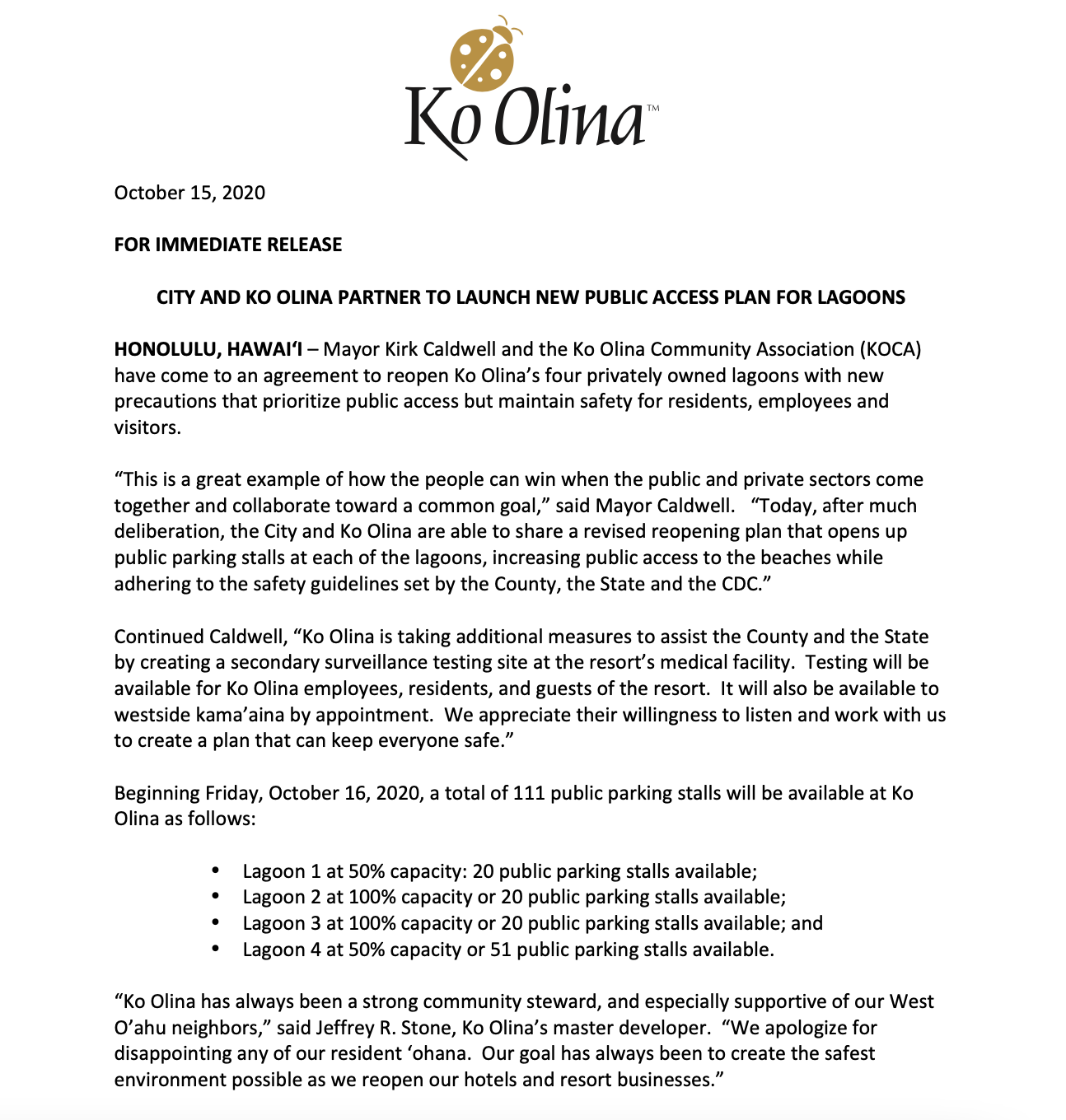 This action was again opposed by Surfrider Foundation and our partners at Free Access Coalition, along with a swath of community members and residents. Some community activists attended a sign waving in January of 2021.
Finally, Koʻolina announced that starting February 1, 2021, all public parking spaces would be fully open, restoring public beach access & all associated parking.
Surfrider Foundation fights to protect our ocean, beaches, and waves, for all people. Beach access is a fundamental public right, and it is one we must always protect, especially in the face of private companies attempting to skirt the law and limit our access to public trust resources.
Mahalo for all of your support and continued awareness. With more Beach Access or Coastal issues, please e-mail beachprotection@oahu.surfrider.org.