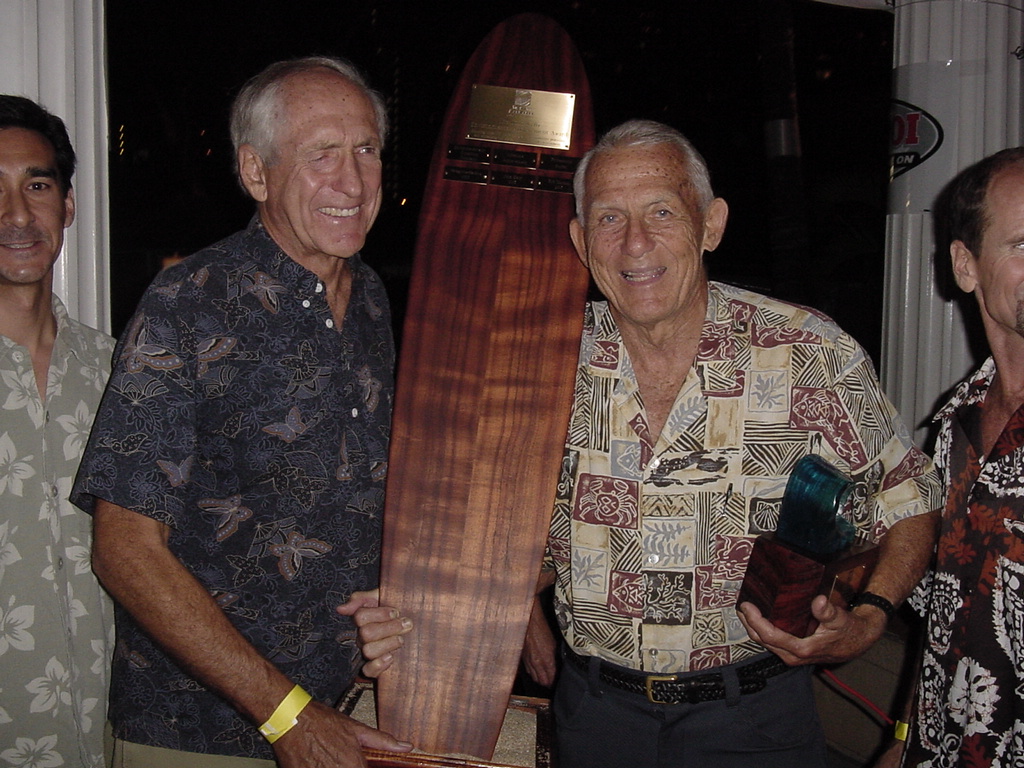 Welcome to Surfrider Foundation Oʻahu Chapter's

18th annual John Kelly Awards
The Man. The Legacy.
John Kelly was an environmental activist, skilled diver, big wave charger, and ocean advocate. Gathering a few of his buddies to protect local surf breaks, Save our Surf was born. Save our Surf was instrumental in preserving over 140 locally treasured surf spots along ala Moana, precious land of the kanaka maoli community, and luscious acres of farmland. We continue to honor John Kelly and the fire that he lit in others to continue fighting the good fight for our ocean, waves, and beaches here in Hawaiʻi.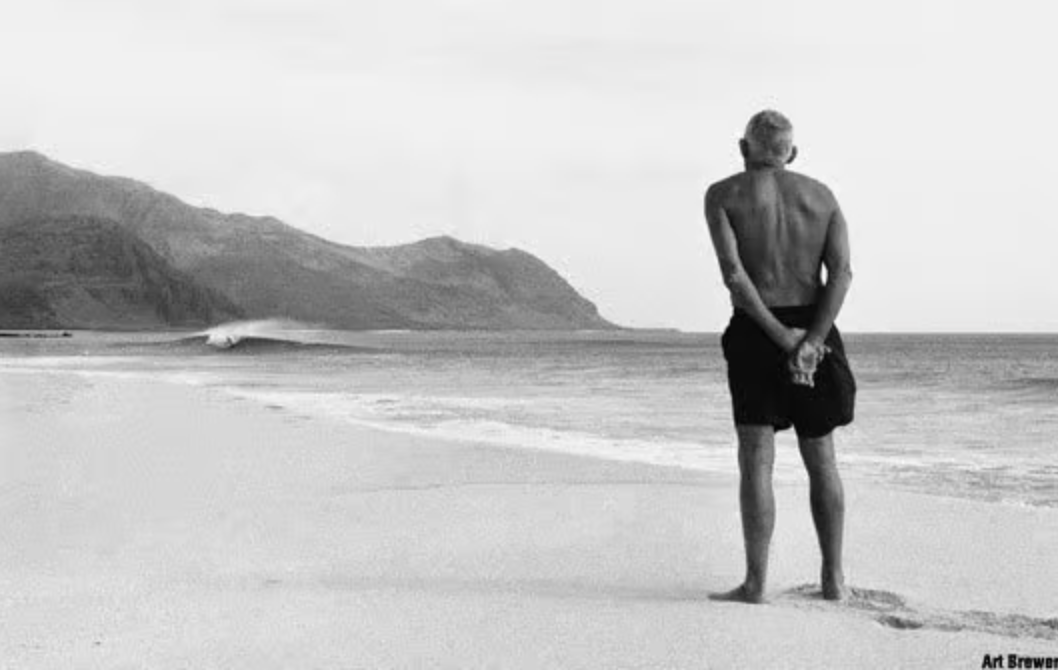 Photo of John Kelly from Surfer Article
Be the Change You Want to Sea
The Surfrider Foundation's Oʻahu Chapter would like to invite you to join us for the 18th Annual John Kelly Awards Celebration at beautiful Waimea Valley on November 19, 2022. The ceremony recognizes a local surfer, organization, and lifetime achievement award for those who embody the spirit, mana, and dedication of Mr. John Kelly. We truly appreciate your attendance and enthusiasm in support of Surfrider Oʻahu.
Community Leaders, Organizations, and Surfers
Surfrider Oʻahu's John Kelly Environmental Achievement Awards recognize those who have made the greatest contributions towards protecting or enhancing our coastal community and environment.
Held each year in honor of John Kelly, the Awards Ceremony honors those individuals and organizations that have followed in his footsteps and continued his legacy of environmental leadership. The 2022 John Kelly Award Winners include:
Bill Saunders, Peter Cole Lifetime Achievement
Re-Use Hawaiʻi, Hawaiʻi-based Company
Mālama Pūpūkea Waimea, Community Wave Maker
Kimi Werner, Professional Waterperson/Surfer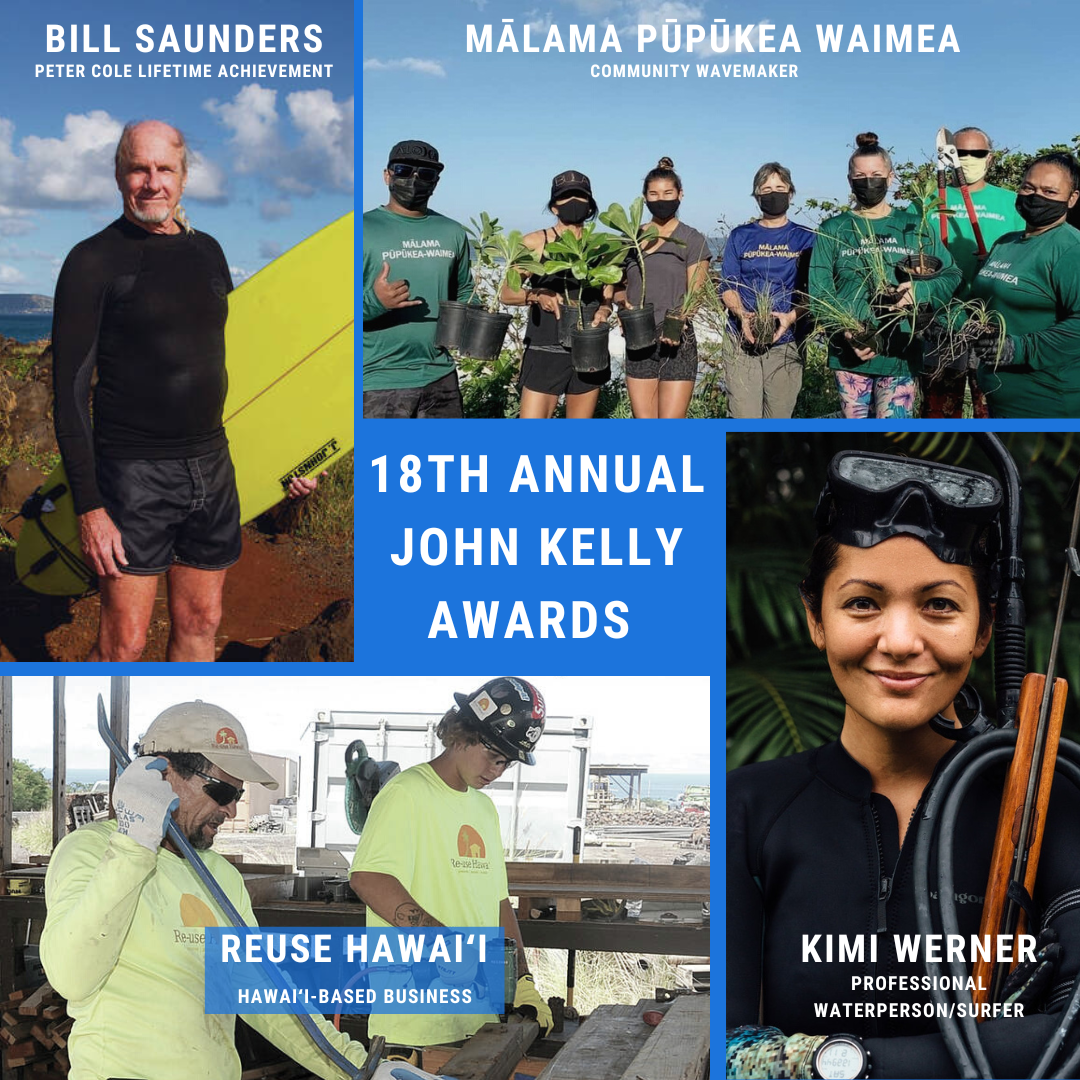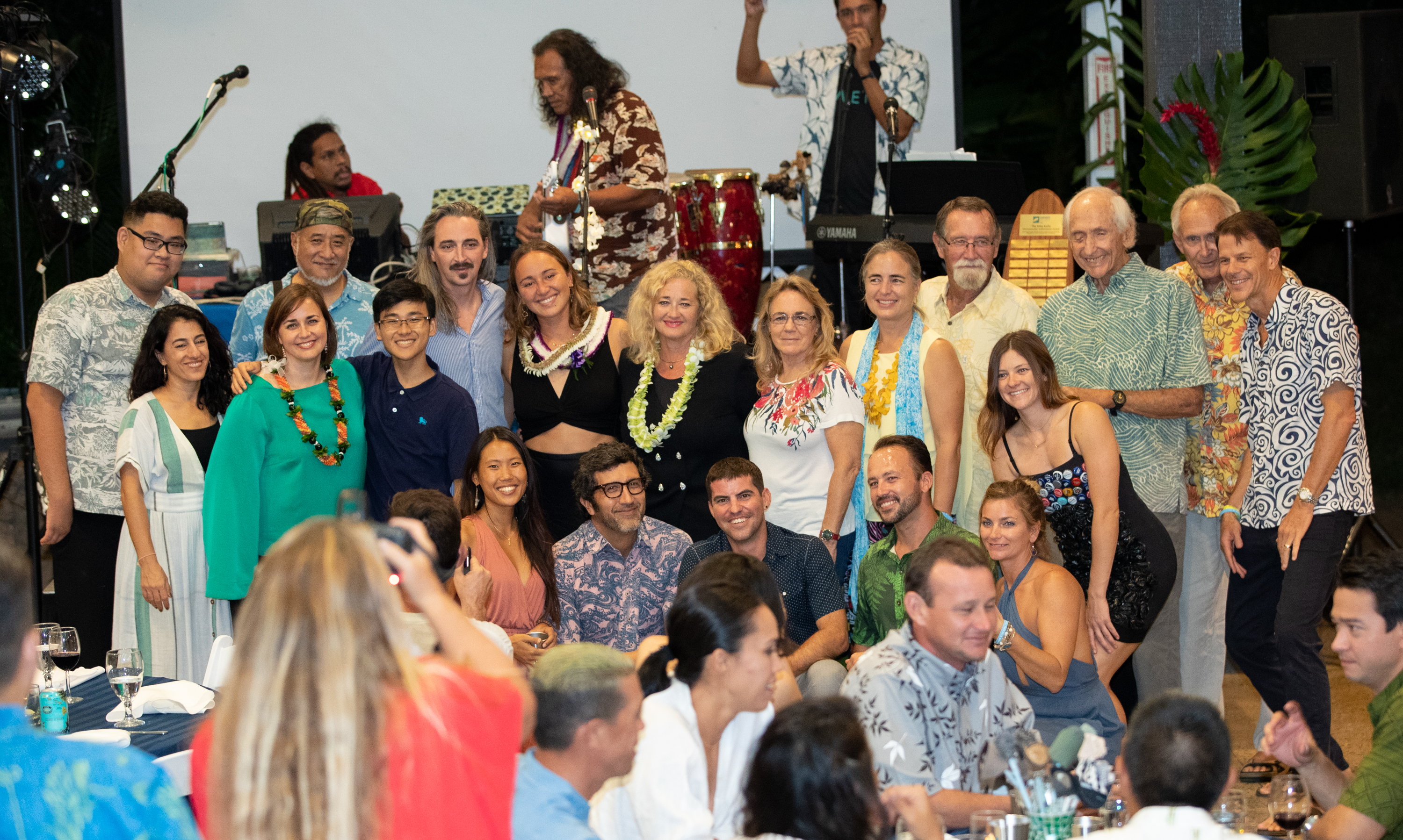 The Surfrider Foundation is dedicated to the protection and enjoyment of the world's oceans, waves, and beaches for all people, through a powerful activist network.
Does YOUR work align with our mission? Find more information on the ways your organization can support the cause and join the celebration!
PREVIOUS WINNERS
John Kelly, for whom the award is named, was the original recipient of the Lifetime Achievement category. For decades, Kelly led many environmental crusades on O'ahu. Sadly, John Kelly passed away in 2007, but through this annual event, he continues to be remembered and honored by the Surfrider Foundation.
| | | | |
| --- | --- | --- | --- |
| | Peter Cole Lifetime Achievement | Hawaii-Based Company, Community Wave Maker | Professional Waterperson/Surfer |
| 2022 | Bill Saunders | ReUse Hawaiʻi, Mālama Pūpūkea Waimea | Kimi Werner |
| 2019 | Ruth Gates Posthumous | Local I'a, Sierra Club of Hawaii | Carissa Moore |
| 2018 | Chip Fletcher | HIC Surf, Access Surf | Cliff Kapono |
| 2017 | Dr. Bob Richmond | Town Hospitality Group | Cyrus Sutton |
| 2016 | Cynthia Thielen | Kailua Beach Adventures | Greg Long |
| 2015 | Nainoa Thompson | Heather Brown | Ramon Navarro |
| 2014 | Lucky Cole | RevoluSun | Jon Rose |
| 2013 | Denise Antolini | The Black Cat Salon | Crystal Thornberg-Homcy |
| 2012 | Charles Moore | Mu`umu`u Heaven | Torrey Meister |
| 2011 | Cora Sanchez | Kona Brewing Company | Kyle Thiermann |
| 2010 | Mark Cunningham | Honolulu Weekly | Duane DeSoto |
| 2009 | Yvon Chouinard | Bill Braden | The Malloy Brothers |
| 2008 | Shaun Tomson | Styrophobia | Dave Rastovich |
| 2007 | Randy Rarick | Pacific Biodiesel | James Pribram |
| 2006 | Peter Cole | Schnitzer Steel Hawaii | Pancho Sullivan |
| 2005 | Larry McElheny | Brushfire Records | Rochelle Ballard |
| 2004 | George Downing | Oceanit | Kelly Slater |
| 2003 | John Kelly | Patagonia – Haleiwa | Rob Machado |